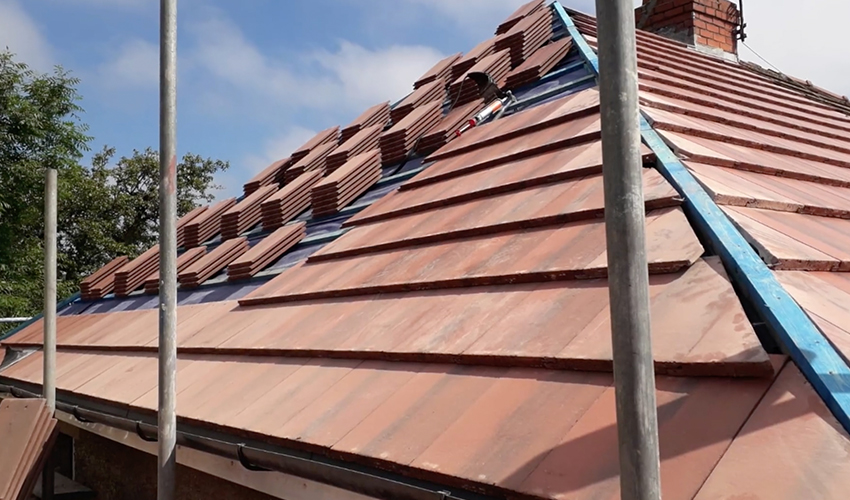 Roof tiles do a great job of keeping the rain out of your property. They also look great as a complete covering on top of your home. But how are they fixed in place? It's not something many homeowners will think about, perhaps until there's an issue…
Fixing roof tiles
Most roof tiles are fixed in place using nails. Whether it's aluminium, steel or copper, the nails attach tiles to roof battens, which are laid horizontally across the surface of your roof. It's important that these nails aren't driven in too much, as the force from the hammer could cause damage to the roof tiles themselves.
Because the nails are used at the top of the tiles, they're usually hidden by the overlapping tiles above. To keep your roof completely waterproof, roofing tiles are overlapped from bottom to top, so each row slightly overlaps and covers the row below it.
Of course, there are also some tiles in unique positions like the valley or ridge of a roof. In some cases, these tiles are pointed with mortar, rather than fixed with nails.
Not all tiles need to be fixed
It's a common misconception that every tile needs to be fixed in place. However, with the overlapping structure and natural strength of the tiles, the majority of your roof's tiles can hold their own without nails.
Tiles in certain areas of the roof, like eaves and verges, will need to be nailed in place. However, on the main roof covering, only every 3-5 tiles will need to be nailed in sequence to keep the whole roof structurally sound.
Can they fall out of place?
Whether it's due to poor installation or just wear and tear, tiles can sometimes fall or be knocked out of place. This might be down to the nails corroding, which often happens with durable materials like slate. Why? Slate can last over 100 years. Some nails, which are susceptible to corrosion will simply wear away over this time and need to be replaced. This is called 'nail fatigue'
However, it may simply be that the weather has forced a tile and its nails out of the roof. A loose tile will inevitably catch more wind, which will continually pull the tile and the nails away from the roof.
Above all else, this highlights the importance of regular roof inspections. If a roofer can spot a loose tile before it falls away, it's a much simpler job than replacing it altogether. That also means there's no chance of any leaks or damage in the meantime.
Fixing your roof tiles
Concerned that your roof tiles aren't properly fixed? Or maybe you've noticed one or two already out of place? That's no problem for the team at DPR in Huddersfield. We provide prompt, effective roofing repairs for homes throughout Huddersfield and the surrounding areas.
From Halifax to Holmfirth, we're on hand to professionally inspect your roof, replace nails or even replace tiles altogether where required. Get in touch with our team on 01484 866 772 to arrange an inspection.